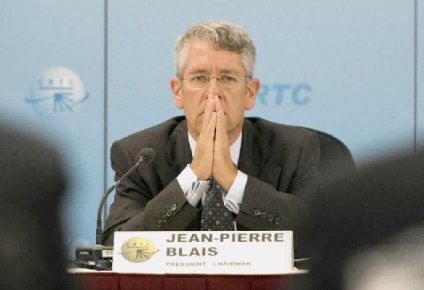 Once again this year, as was the case when the Supreme Court of Canada released its "pentalogy" of decisions on July 12m 2012, Canadian consumers, IP users and "public interest" advocates need to pinch themselves to make sure that they are not dreaming in Technicolor.
The CRTC has very surprisingly and very clearly rejected the proposed $3.4 billion Bell/Astral merger. Here's the s

ummary.

Here's the decision.
BCE has become a superpower within the Canadian firmament, having huge and converged interests in just about all aspects of media (including news), entertainment, broadcasting, telecommunications, ISP, wireless and even retailing.
Without commenting on BCE or this transaction in particular, it can be the case from a purely copyright standpoint that this kind and quantity of convergence can end up being bad for consumers. And we all know that copyright is important these days.
This is because the naturally competition and even occasionally adversarial relationships that might have otherwise taken place between various parts of a corporate empire, if they were separately owned, may cease to take place if there is common ownership. Fuzzy and compromised thinking may be the result, with mixed or confused signals being sent out to regulators and consumers themselves.
The result can even be bad for the mega merged company itself. I suspect that SONY is an example of just such a result. As a hardware company, it was for a long time unbeatable in consumer and even some sectors of professional electronics. It made the best and most innovative gadgets in just about every category. But, then it decided to become an entertainment company too. The two don't always mix. Entertainment companies virtually all believe that more copyright is always better. Consumer electronics companies tend to believe that less is more and better.
For example, at Canada's Copyright Board, SONY had a big stake on both sides of the fence in the early days of the tape and CD levy. It stood to benefit from the revenues and was a major stakeholder in the CPCC. But, as a hardware and blank media manufacturer, it was an objector to the levies. I suspect that SONY had some interesting internal discussions about levies and more recently about TPMs. On the latter front, it found itself in the incredibly embarrassing position of having deployed its disastrous "rootkit" antipiracy malware embedded in sound recordings that destroyed or injured a lot of hardware that SONY would have made and sold to unsuspecting consumers.
Unlimited convergence may have had its day and that would probably be a very good thing. At least, for this day, it has met its match at the CRTC, and its new Chair, Jean-Pierre Blais pictured above.